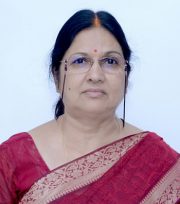 Prof. Dr. Kamini Kumar
Pro Vice Chancellor
I am very happy to convey my good wishes to the Department of Journalism and Mass Communication of Ranchi University. The Department has been very instrumental in nurturing a generation of qualified and well-placed journalists who have brought – and are still bringing – laurels and good name to their alma mater and to the state of Jharkhand.
I am not misplaced in admitting that when it comes to the quality of training and curriculum, this Department would be adjudged "one of its kind" in the entire state of Jharkhand. Journalism is a very noble career and it requires sincerity, skills and commitment for professional success.
I wish all success to the Department and I am sure that it would continue to carry on the rich legacy it has created in the field.