Padma Shri Mukund Nayak reached the mass com department
Ranchi: Renowned folk singers, songwriters and dancers of Jharkhand, Padmashree Mukand Nayak and Kishore ji reached the School of Mass Communication Department of Ranchi University on July 14. Director of the Department Prof. (Dr.) B.P. Sinha and the teaching staff welcomed him. He toured the entire department and discussed Nagpuri Geet Sangeet Nritya with Director Dr. Sinha. It may be known that Padma Shri Mukund Nayak has given recognition to Jharkhand in the country and abroad in the field of art. Apart from the Padma Shri, he has also been honored with the Sangeet Natak Akademi Award.
.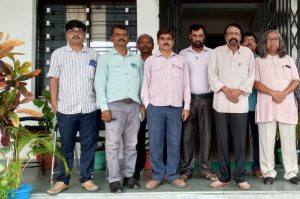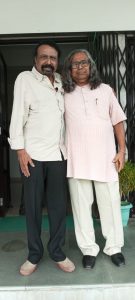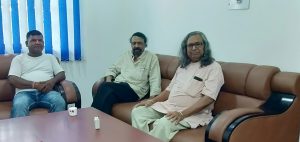 Interaction with the students of Mass Com, Ranchi University
'Mann Ki Baat' became Jan Ki Baat of today's date: N.K. Murlidhar
Ranchi: A pre-telecast of the 100th episode of Prime Minister's radio program 'Mann Ki Baat' was held at the School of Mass Communication, Ranchi University on April 29.
Senior journalist and motivator NK Muralidhar of Jharkhand was the main speaker in this program. He said that the direct interaction of the Prime Minister of the largest democracy like India with the people and constant discussion on relevant issues is an important thing.
In this discussion program, journalism students N. Also asked many curious career related questions to K. Muralidhar. On this occasion, Director Prof.Dr. B.P. Sinha, Deputy Director Dr. Vishnu Charan Mahato, departmental teachers Santosh Oraon, Sankarshan Paripooran, Manoj Kumar Sharma, PS Tiwari, Sushil Ranjan and students of all sessions were present
Academic Advisor Prof. E Balagurusamy reached the School of Mass Communication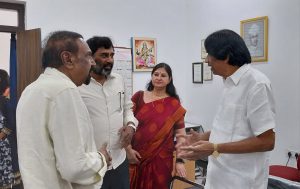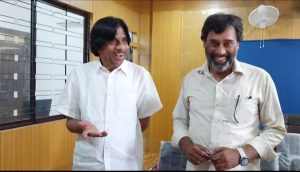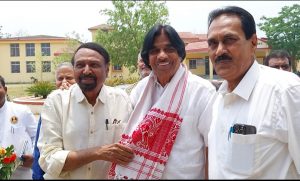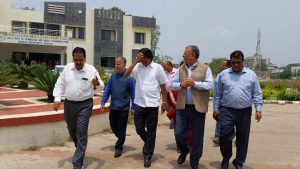 25 April 2023
Ranchi:  Academic Advisor to the Governor-cum-Chancellor, Prof. E Balagurusamy on 25th April VC RU Prof. Dr. reached the School of Mass Communication with Ajit Kumar Sinha. On his arrival in Mass Communication, Director Prof.Dr. B.P. Sinha welcomed him by covering him with a Jharkhandi sheet. After this Academic Advisor Prof. E Balagurusamy looked at the entire mass com department with interest. He was told that the Department of Mass Communication of Ranchi University is the first Department of Journalism and Mass Communication in Bihar Jharkhand and he expressed happiness. Pro. E Balagurusamy along with the Vice Chancellor visited the library, auditorium, studio, computer lab along with the classrooms in the department and appreciated the department.
Congarulations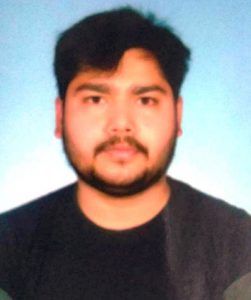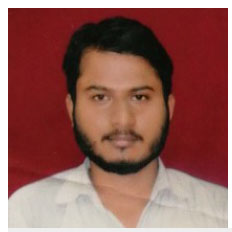 Abhimanyu       Avishek Singh       Vikash Kumar
Pandey
Congratulations
The placement of two students Abhimanyu Pandey and Abhishek Singh of School of Mass Communication, Ranchi University PG session 2020-22 and Vikas Kumar of session 2021-23 has been done in Dainik Bhaskar after interview and written examination.
Abhishek Singh has been selected for the Patna edition of Bhaskar. He is being sent to Bhopal for training.
Director Prof. Dr. B.P. Sinha has congratulated all the three students for their new beginning in a big and prestigious newspaper.
स्कूल आफ मास कम्युनिकेशन , रांची विश्वविद्यालय पीजी सत्र 2020-22 के दो छात्रों अभिमन्यु पांडेय और अभिषेक सिंह तथा सत्र 2021-23 के विकास कुमार का प्लेसमेंट दैनिक भाष्कर में साक्षात्कार और लिखित परीक्षा के उपरांत हुआ है।
अभिषेक सिंह का चयन भाष्कर के पटना संस्करण के लिये हुआ है।इन्हें ट्रेनिंग के लिये भोपाल भेजा जा रहा है।
निदेशक प्रो. डॉ. बी.पी. सिन्
‍
हा ने तीनो छात्रों को एक बड़े और प्रतिष्ठित समाचारपत्र में नयी शुरुआत के लिये बधाई दी है।
****************************************************
आरयू मास कॉम में संपन्‍न हुआ फिल्‍म एडिटिंग पर बेहतरीन कार्यशाला सह सेमीनार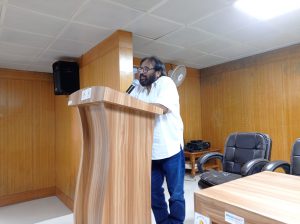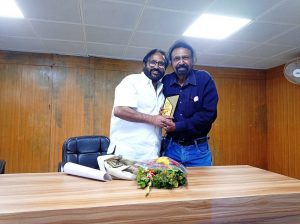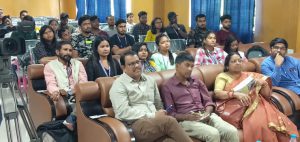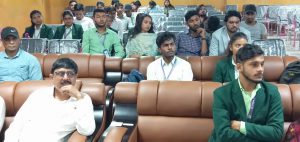 असीम सिन्‍हा ने छात्रों को फिल्‍म संपादन के इतिहास से वर्तमान तक से रूबरू कराया
रांची : शनिवार एक अप्रैल 2023 को आरयू के मास कॉम डिपार्टमेंट के स्‍भागार में बॉलीवूड तथा अंतर्राष्‍ट्रीय फिल्‍मों के प्रसिद्ध फिल्‍म एडिटर असीम सिन्‍हा ने एक सेमीनार सह कार्यशाला में विभाग के छात्रों को फिल्‍म संपादन के बारीकियों को सिलसिलेवार तरीके से बताया। इस कार्यक्रम में सैकड़ो छात्रों ने भाग लिये और अपने सवाल भी पूछे।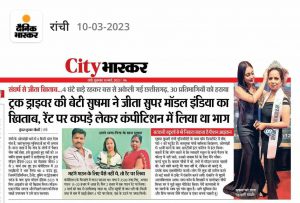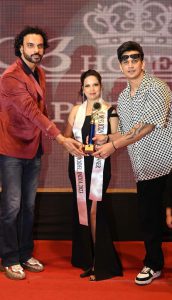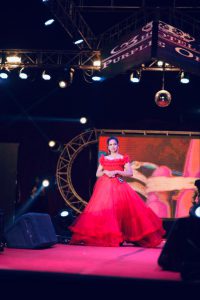 5 March 2023 . Our Student Sushma is Now Super Model of India. Congratulations Sushma.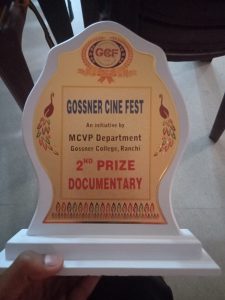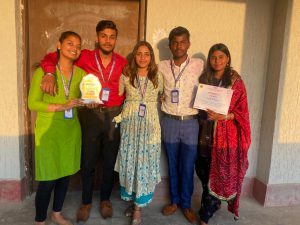 On 5 March 2023  Our UG Sem 1 Students won 2nd prize in his Documentary "Anadrit" in Gossner Cine Fest. Congratulation Utkarsh, Suhana, Akansha, Shruti and Jagjeet.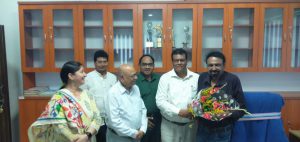 Our New Director (from right) Prof. (Dr.) B.P. Sinha
Joining on 29 Sept. 2022 with Registrar Dr. M.C. Mehta
Dy. Director Dr. V.C. Mahto, Coordinator Dr. D.K. Sahay
Tech. Head Dr. Sushil Ankan, Dy. Director CVS Dr. Smriti Singh.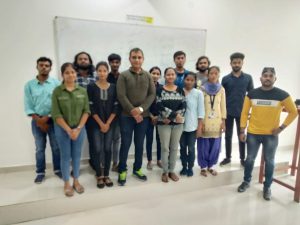 23 July PG Sem II & UG Students with RJ Bhupesh(Big. FM) after a fruitful training classes.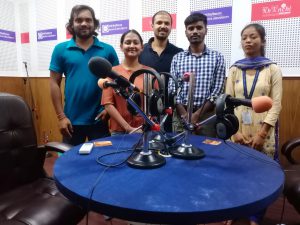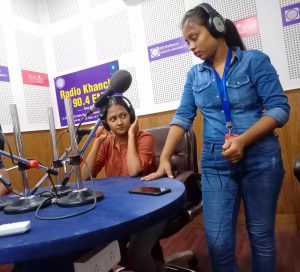 Students of School of Mass Communication in Radio Khanchi, RU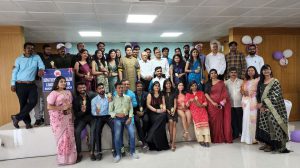 A Farewell Party on 10 July
6 July : CCDC in our Department to discuss for a latest Digital Studio.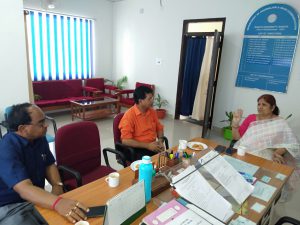 4 July 2022: Pro VC  Dr. Kaamini Kumar visited School of Mass Communication.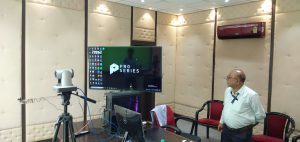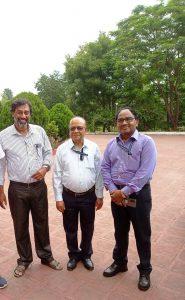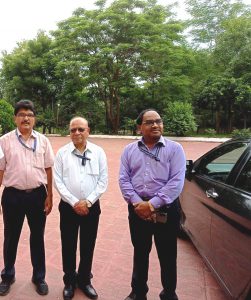 29 June 2022 :  The officials of the School of Mass Communication are working on a special project for you students.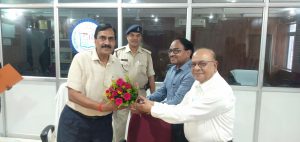 27 June 2022: विश्‍वविद्यालय मुख्‍यालय में डिप्‍टी डायरेक्‍टर डॉ. विष्‍णु चरण महतो सर एवं कोर्डिनेटर डॉ. डी.के. सहाय सर ने वीसी डॉ. अजीत कुमार सिन्‍हा का  स्‍वागत किया।
Dr. Vishnu Charan Mahto Sir, Deputy Director at University Headquarters and Dr. D.K. Sahay sir welcomed VC Dr. Ajit Kumar Sinha by giving him a bouquet
सत्र 2020-22 के छात्रों का शैक्षणिक भ्रमण Educational Tour of Session 2020-22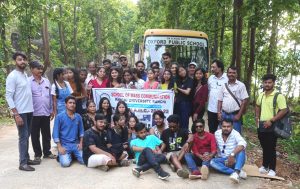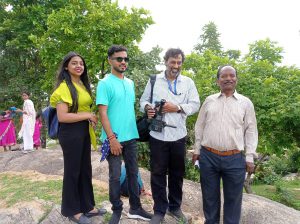 26जून 2022 को स्‍कूल आफ मास कम्‍युनिकेशन रांची युनिवर्सिटी के सत्र2020-22के छात्र मुरहू स्थित पंचघाघ जलप्रपात शैक्षणिक भ्रमण पर गये।इस भ्रमण में सत्र के छात्रों के साथ विभाग के असिस्‍टेंट पीएस तिवारी, लायब्रेरियन सुशील रंजन शिक्षक संतोष उरांव, मनोजशर्मा  और सब के प्रिय डहरू दा भी गये।
On 26 June 2022, the students of the School of Mass Communication Ranchi University for 
the session 2020-22 went on an educational tour to Panchghagh Falls at Murhu.In this excursion
, along with the students of the session, Assistant PS Tiwari, Librarian Sushil Ranjan, 
teacher Santosh Oraon, Manoj Sharma and everyone's dear Dahru Da also went.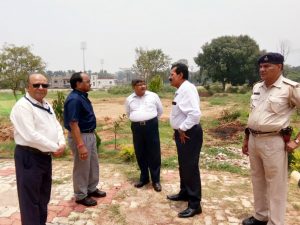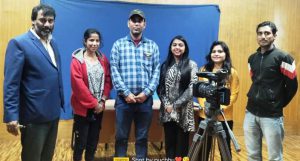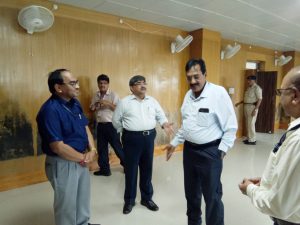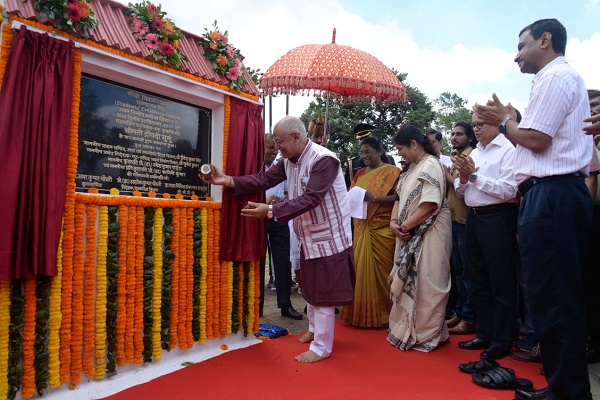 Vice chancellor at the site of inaugural function of new building.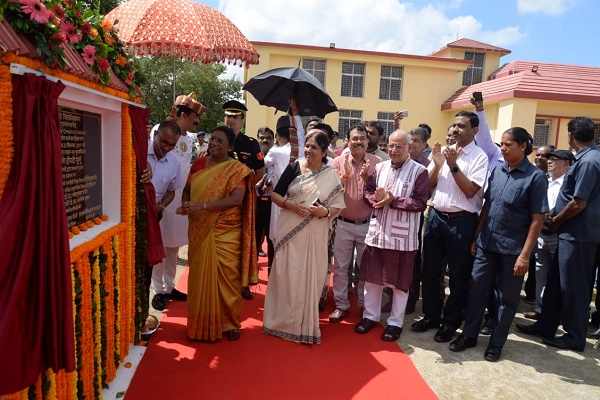 Her highness (Governor), Vice chancellor, Pro Vice chancellor,
Registrar at the site of inaugural function of new building.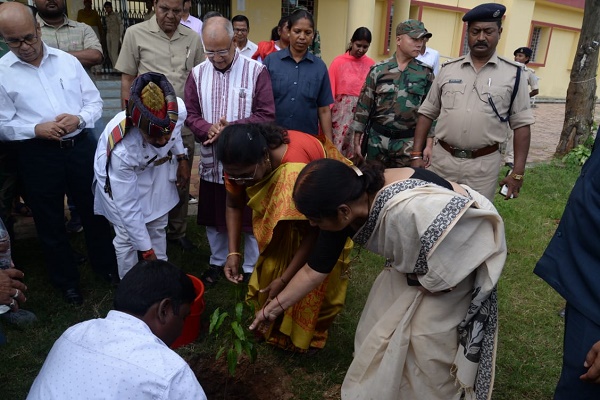 Plantation by the Governor in our new campus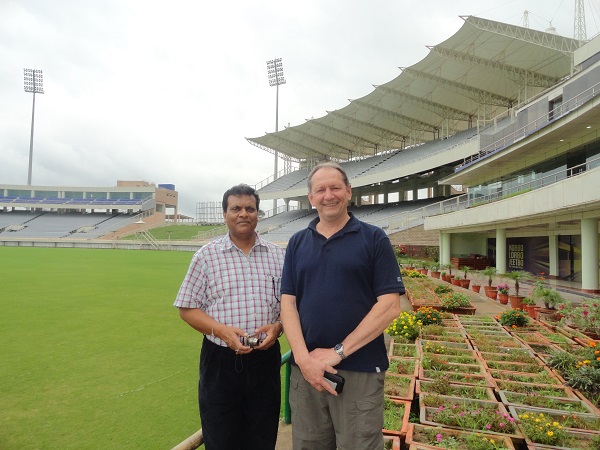 Phil Grey great fan of Mahendra Singh Dhoni
(from Mass comm. Department Sydney, Australia)
visiting JSCA Stadium with Our Director M.C. Mehta.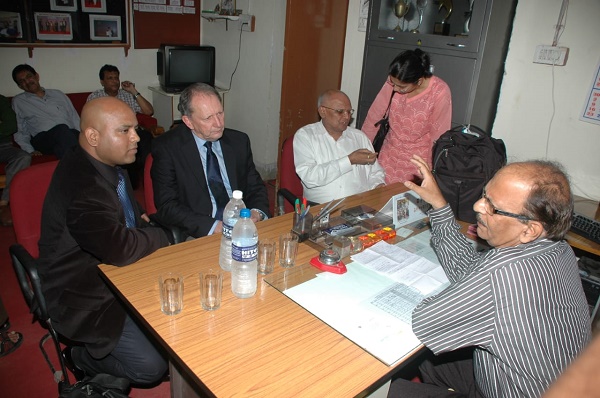 A meeting with Australian team to organize Australian film Festival in Ranchi.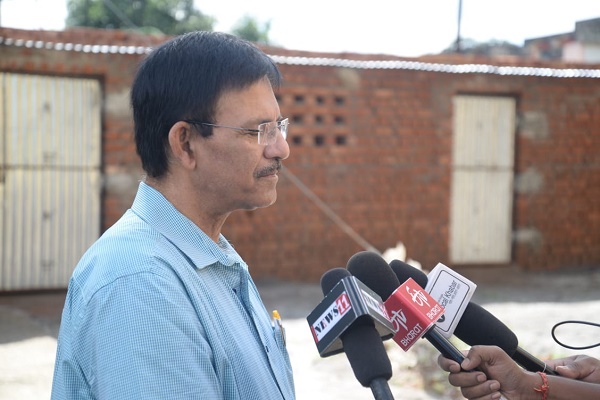 Dr. Ashok Kumar Choudhary briefing Media about the Department.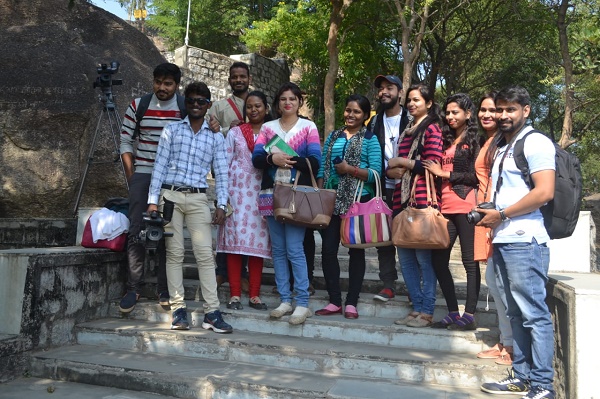 Documentary shooting in Tagore Hill, Ranchi.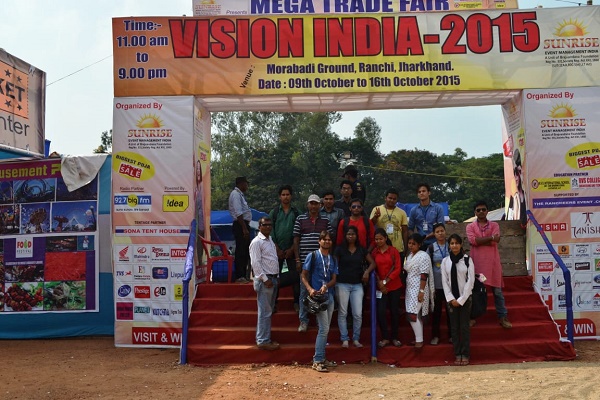 Ground Reporting practical in Morabadi Mega Trade Fair.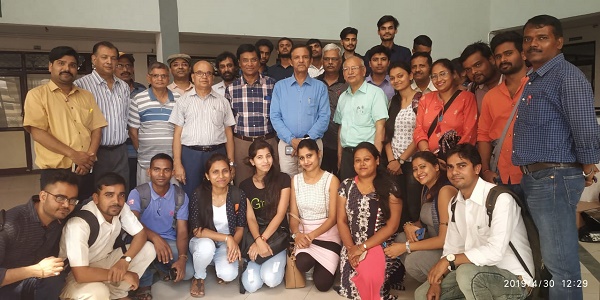 Group photography with vice chancellor and university officers.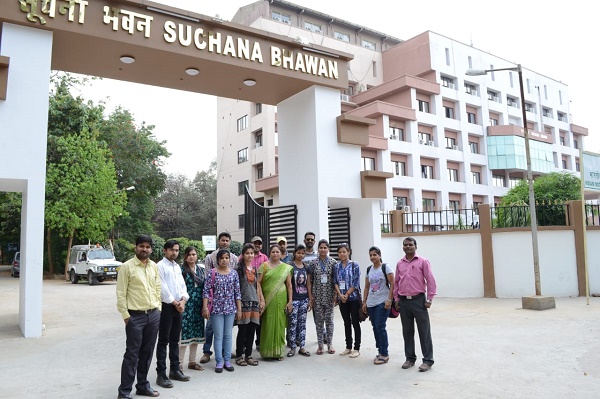 Public relation training in Suchna Bhawan (IPRD) Ranchi.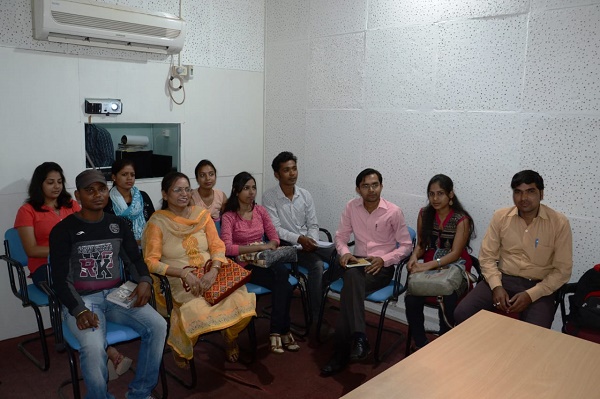 Practical session in Department Studio.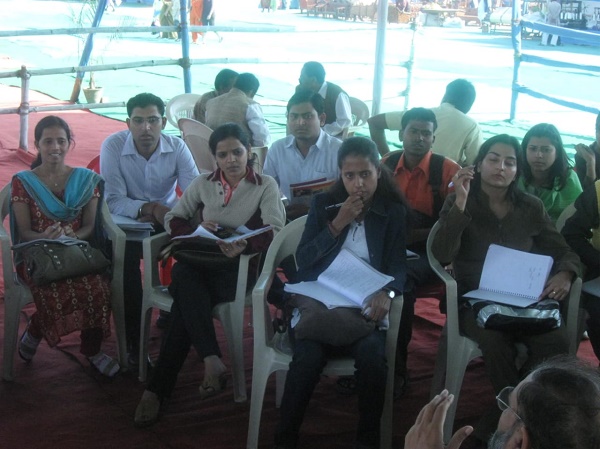 Field reporting training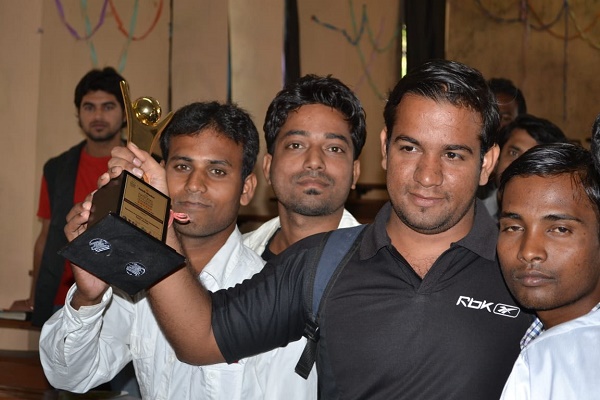 Winning moment of National Education Leadership Award.